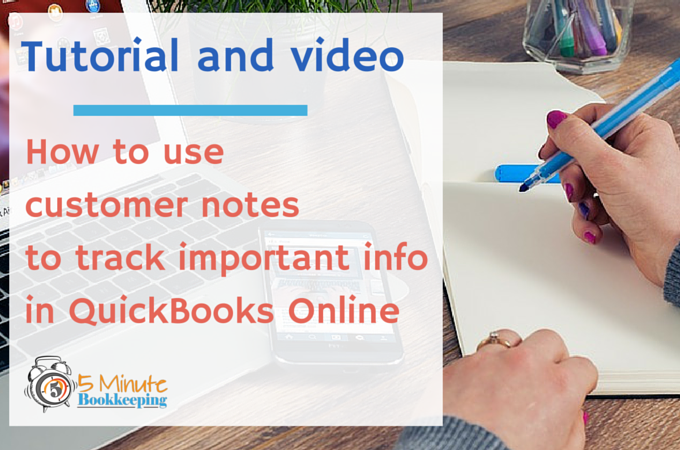 Several years ago, I worked at a company where I was in charge of the accounting department. The CEO told me that they were experiencing problems with collecting past due balances from customers. She said that she couldn't understand why they were not collecting on time in spite of the fact that a part-time employee (we'll call her Mary) made collection calls everyday. I asked Mary to give me a list of the customers she contacted and a record of the collection calls – in particular when she called, who she spoke to, and what they said. Unfortunately, Mary was not tracking any of this information. At my request, she made a record of all of the calls she made and gave me a report of all her collection calls every week. Very soon, collections improved because we were able to track our conversations with customers about their collections. I highly encourage you to use customer notes to track your collection calls as well as other important information that I will share with you in this post.
In this blog post I'm going to show you how to use customer notes to track important information in QBO. This is something that I find really helpful especially when you need to track collection calls with customers or any notes that you might need to track any sort of conversations or information about your customers.
Video tutorial
Here is a step-by-step video of the tutorial on how to use customer notes in QuickBooks Online.
How to use customer notes to track important information in QBO
From the left navigation bar select Sales.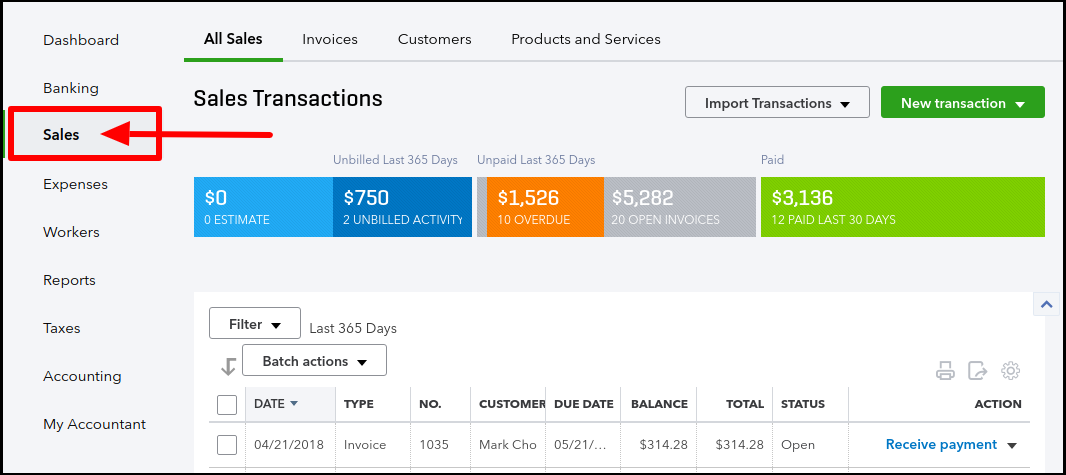 Once you're in the Sales Center, click on the Customers tab to open the list of customers.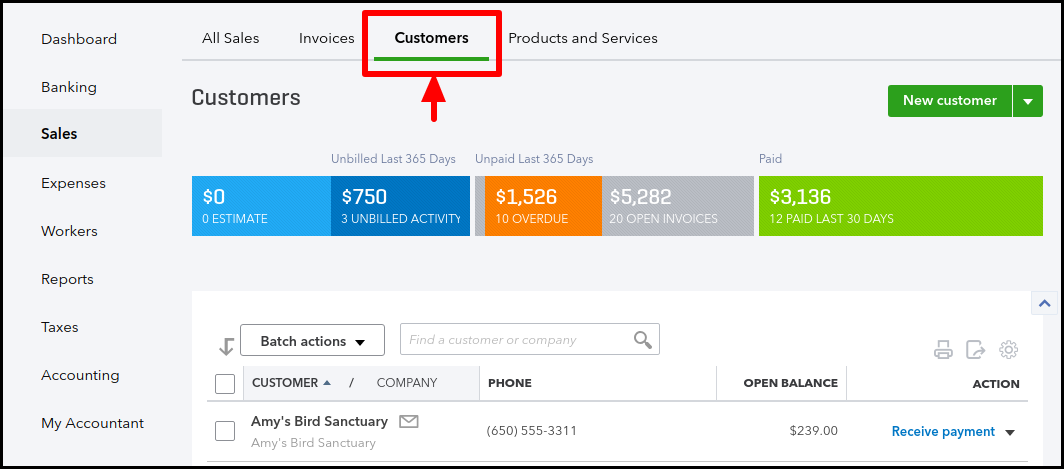 Click on a customer's name to open the customer's information. In my example, I'm going to choose Amy's Bird Sanctuary.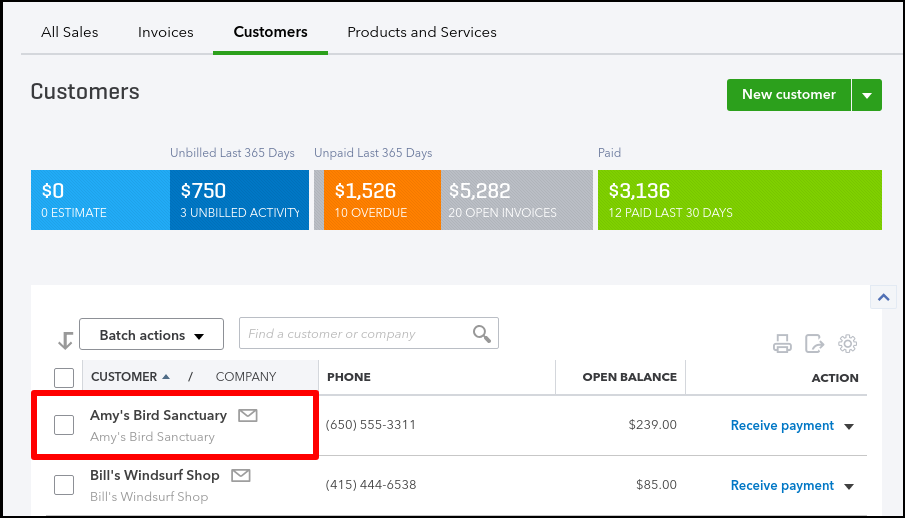 There are a couple of ways to add notes.
First is to click "Add Notes"

And just start adding notes that are relevant for that customer. I recommend that you enter your initials and the date so that you can track when you actually entered that note and then who entered the note.

Add a collections note
Here's a typical collections note that we might enter for a customer.

As soon as you finish typing the note, just click away from the text box and the note is automatically saved in QBO.
Another way to add notes is to click on Customer Details.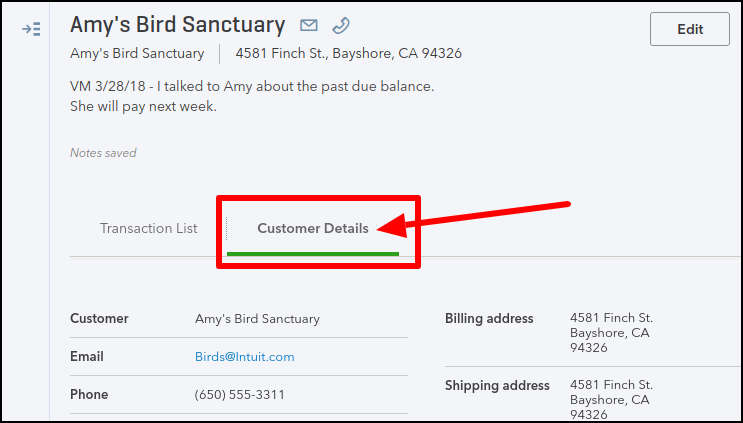 In the Customer Details window, locate the notes section. You can add notes here as well.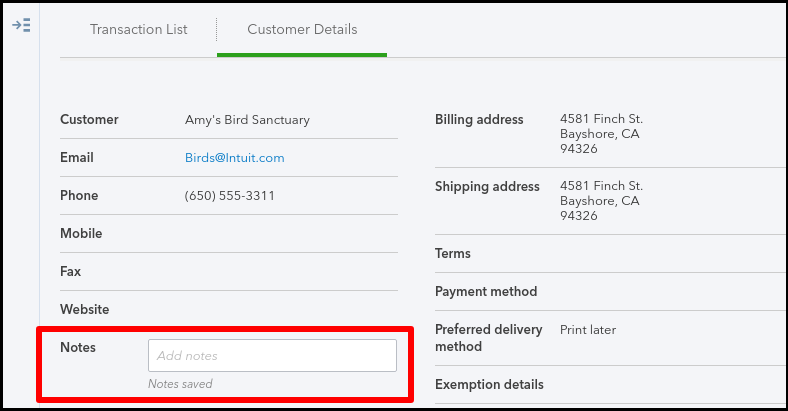 Tips for working with notes in QuickBooks Online
Right now, you can't tag a conversation in QBO nor can you tag a note for the type of conversation that you're entering.
Let's say its a collection note that I'm tracking here:

Enter your initials, date and in parentheses enter "collections". This way, you know that this is a note about collections.

Let's say that I want to make another note and its about a contract.
Enter the new note above the old note and indicate in parenthesis that it is a "contract" note. See the example below:
Types of Notes to Track in QuickBooks Online
You can use customer notes to track important information. Here is a list of suggested uses:
Collection Notes
Contracts
Pricing – specific pricing or hourly rates
Internal invoicing notes
Conversations with customers
Shipping instructions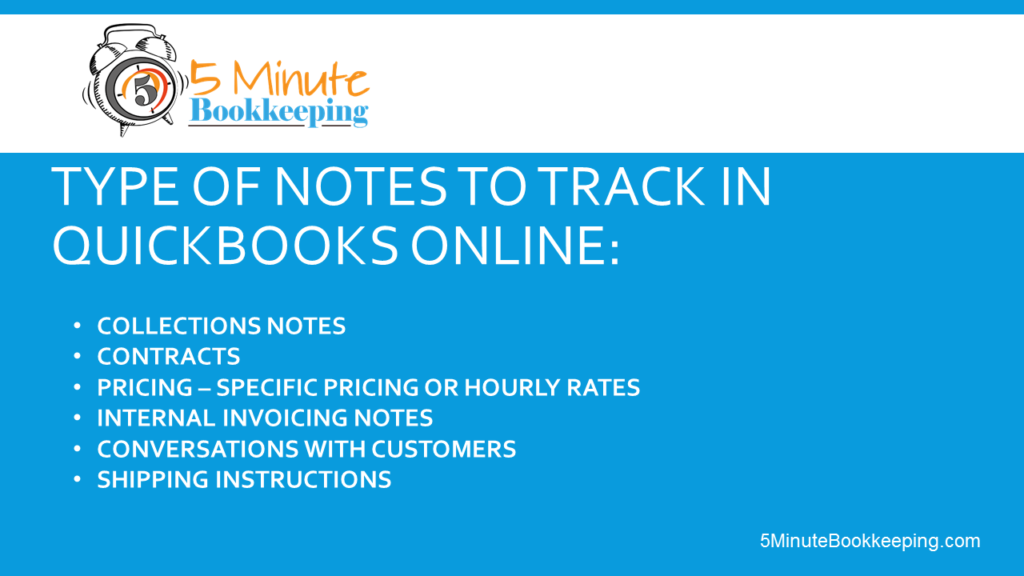 Here's an example of a note you might enter to track pricing or rates for a customer:

This is helpful when you need to invoice the customer. Just look at the notes to remember which rates to use.
Closing
You have learned how to use customer notes to track important information in QBO. Try it out and let me know how you are using notes or if you have found other uses for notes in QBO.
For more tutorials please subscribe to this blog below and be sure to share this content with others. Have a great week!
The post How to Use Customer Notes to Track Important Information in QBO appeared first on 5 Minute Bookkeeping.
Source: How to Use Customer Notes to Track Important Information in QBO, 5 Minute Bookkeeping
For more information about QuickBooks Online, please visit the QuickBooks Online website.